With the growth of the new town around the Clydebank Shipyard, the road was named Glasgow Road up to its junction with Kilbowie Road, and Dumbarton Road from that point westwards. It became the A814 when roads were first numbered in 1920. During the Depression in the 1920s, the contractor Sir Robert McAlpine & Sons took on unemployed men to build the A82, also known as the Great Western Boulevard. This dual carriageway ran from Anniesland Cross to Bowling and passed north of Kilbowie Road.
Clydebank's road traffic was mainly horse-drawn in the early days and consisted of carts, carriages, and horse buses. A horse-drawn stagecoach operated between Duntocher and Glasgow, via Canniesburn in Bearsden.
Cars and Buses
When motor transport was introduced it caused alarm; newspaper reports in 1910 mention vehicles speeding at over 12 miles per hour! Motor buses appeared in the town in the 1920s. A local firm, Clydebank Motors, also ran charabancs - closed or open-topped - which were popular with local organisations for annual outings to Balloch or Helensburgh. In the 1930s Glasgow Corporation extended its bus routes into Clydebank, despite opposition from the railway companies. The Scottish Motor Traction Company (SMT), which had a bus depot in Old Kilpatrick, followed suit. In 2004, bus services in and around Clydebank are provided by a number of operating companies.
Clydebank Co-operative Bus
One of the luxurious motor coaches acquired by Clydebank Co-operative Society in 1948. It carried parties to all parts of Britain.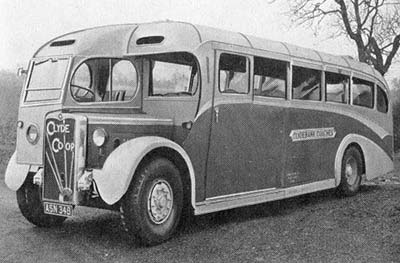 Clydebank Co-operative Bus
After years of economic depression and war, outings in the relative comfort of a motor coach were greatly appreciated by the membership. Post-war buses and coaches remain popular at the beginning of the 21st century, for city tours and "nostalgia" outings.