School Mobile Library Service
West Dunbartonshire Libraries operate a School Mobile Library Service which provides a library service to local primaries, specialist schools and nurseries in our community.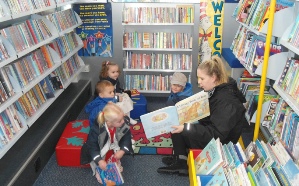 The School Mobile visits the schools/nurseries every 6 weeks offering the children the experience of borrowing books of their choice, encouraging them to read, firing up their imagination and ensuring lifelong literacy skills.
They can choose from over 2000 books including fiction, picture books, easy reads, non fiction and audio books – suitable for all levels.
How it Works
Each primary school class is issued with a library card so a group of children 8 – 10  from each class can go on to the Mobile Library, taking it in turns to select a book of their choice.
How often do we run
The school library service visits are every 6 weeks and must be pre-booked, please contact us if would like to hear more about this service.
Enquiries about this service