Welcome to West Dunbartonshire Libraries
Want to find your local library and its opening hours, get involved in our reading events or even search your family tree? It is all here. Let us share our passion for reading - a wonderful life-long leisure pastime.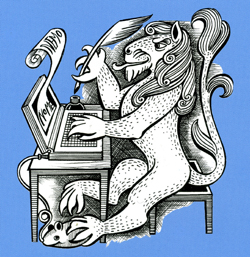 Booked! Logo designed by Alasdair Gray
Booked! West Dunbartonshire Festival of Words 2015
11th May – 22nd May 2015
Since its launch Booked has become well established as West Dunbartonshire's annual literary festival offering a wide a range of topical, entertaining and stimulating events. This year's line-up continues that tradition mixing the best contemporary writers with poets, musicians, an actor and fascinating talks on topics as diverse as the Lusitania and the photography of Robert Mapplethorpe.
More details on the 'Booked!' Festival - (Link opens in new browser window)