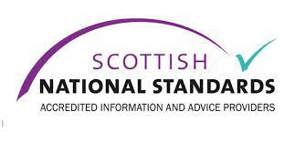 Working4U is an accredited provider of welfare benefits, money and debt advice under the Scottish National Standards for Advice and Information Providers.
If it's information you need, you can browse our Benefits and Eligibility page.
If you are looking to see what you may be entitled to you could try one of the benefit calculators listed.
If you want to apply for a Scottish Social Security Benefit such as Adult Disability Benefit, Child Disability Benefit or Scottish Child Payment you can do so by calling them on 0800 182 2222.
If you feel you still need assistance, please contact us through our online contact form. 
Please provide as much information as possible on the online form to enable us to prioritise your enquiry.   
We have experienced advisers who can help you with:
In and out of work benefit claims
Benefit appeal representation
Assistance with debt issues
We specialise in supporting those affected by cancer and long term health conditions.  We can sometimes access other grant aid and social care services.
Our accredited debt advisers can advise and support on options such as reducing current repayments, Bankruptcy,  Debt Arrangement Scheme (DAS), Minimal Asset Process (MAP) and Trust Deeds.  
This is a free and confidential service to West Dunbartonshire residents and West Dunbartonshire Council staff.