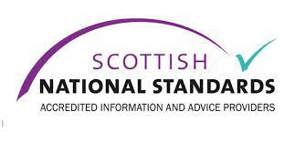 Working4U is an accredited provider of welfare benefits, money and debt advice under the Scottish National Standards for Advice and Information Providers.
We have experienced advisors who can help you with:
In and out of work benefit calculations
In and out of work benefit claims
Benefit appeal representation
Assistance with debt issues, such as:- rent and council tax arrears, evictions and court representation
Fuel poverty is an ever increasing problem.  Some of our staff hold a City & Guilds qualification in Energy Awareness and can offer advice and assistance on a range of energy related issues such as heating, insulation and fuel bills and fuel debt.  West Dunbartonshire Citizens Advice Bureau, in partnership with West Dunbartonshire Council, are currently providing advice and support on these issues, and tariffs, via the Local Energy Awareness Project.  Residents can drop in to their local Citizens Advice Bureau office or contact them online.
We specialise in supporting those affected by cancer, mental health, learning disability and other long term health conditions.  We can access other grant aid and social care services.
We know debt can cause stress and sleepless nights. Our advisers are here to provide information to allow you to make an informed choice in your route out of debt.  This can include options such as reducing current repayments, Bankruptcy,  Debt Arrangement Scheme (DAS), Minimal Asset Process (MAP) and Trust Deeds.  We will assist you throughout the process.
This is a free and confidential service to all residents and WDC staff in West Dunbartonshire.
If it's just information you are after, you can also browse our Benefits and Advice web pages. 
Working4U Money is part of the West Dunbartonshire Advice Partnership.  You can find out more about the services offered on the West Dunbartonshire Advice Partnership page.
If you wish to find out more about the services we provide, chat to a member of our team, or are an organisation looking to refer someone to Working4U, the best way to do this is by completing the Online Form
It is important that you provide as much information as possible on the online form to enable us to prioritise when demand is high.  If your need is urgent then please ensure you tell us.   There may be other avenues of support if your issue is money related.
We have other ways to get in touch with us and chat to a member of our team.
To find out where you can access our service in your area, go to our where to find us page.