The lands known as Cochno (sometimes "Cochna"), in the historical parish of Old Kilpatrick, were developed as a distinct estate many hundreds of years ago. From an early date the estate was associated with a branch of the Hamiltons, one of whom, in the middle of the 16th century, was Provost of Glasgow and Governor of Dumbarton Castle for Mary Queen of Scots. It is likely that this family built the original Cochno House, probably a fortified keep. No traces of it remain.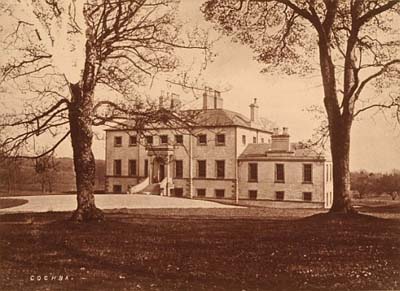 Cochno House c. 1870
In the 17th century, the Hamiltons of Barns were in possession, and lived on the estate. The core of the present mansion house was built for them in 1757. The classical design has been attributed to John Adam, a member of the famous 18th century family of Scottish architects. Additions were made in 1842, in the period of James Hamilton (10th of Barns), when a lower kitchen block was added. The wing was elevated by one storey later. There were latterly 3 public rooms, 11 bedrooms and 4 bathrooms in the mansion house.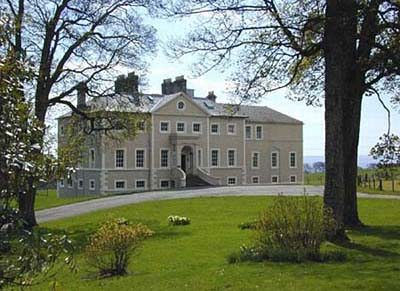 Cochno House - Photo: Professor J. J. Parkins,
Glasgow University purchased the estate in 1954. At that time it consisted of 220 acres. Nowadays the house is the centrepiece of a much larger estate. Between 1993 and 2003, the building was extensively refurbished in line with modern needs and its use in connection with the University Veterinary Faculty. It is of the greatest importance to this Faculty for training, teaching and research. For these reasons, permission should be sought for entry to the house and estate. Members of the public can visit the house on "Doors Open" days.
The house and its surroundings (like Overtoun in Dumbarton) were used as filming locations for the movie Regeneration, based on the novel by Pat Barker, about the plight of hospitalised shell-shocked soldiers during World War I.
University of Glasgow School of Veterinary Medicine website. (opens in new browser window)