The land on which Edinbarnet House stands (a short distance north of the present-day Faifley housing scheme) belonged, from 1528, to a prominent family called Stirling for several generations. The Stirlings of Law and Edinbarnet were a branch of the Stirlings of Glorat. The first large house on the Edinbarnet site was built for William Stirling about 1664. His descendant, James Stirling, had a new house (pictured below) built in 1758, on which there was a stone inscribed with the family motto HIC FIDES ET ROBUR ("Herein are honour and strength").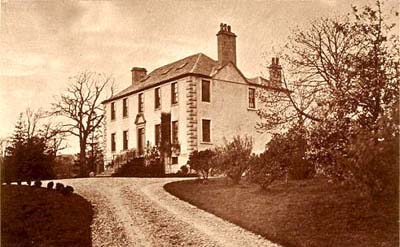 The original Edinbarnet House about 1870
In 1866, the lands were acquired by Walter MacKenzie of Cardowan, and he had a new house built in 1881/2. Within a short time it had been burnt to the ground and rebuilt! This therefore, was the fourth Edinbarnet House, and it was designed by a celebrated architect of the time, Sir John J. Burnet. Constructed between 1885 and 1889, its architectural style is mock baronial, with tower and crow-stepped gables. A Renaissance-style window pediment dated 1758 was incorporated. The MacKenzie crest is set in stone by the fireplace in the main hall.
The house had a number of owners in the 20th century, including (from 1949) William Laird, a well-known pig breeder. In 1975 another fire destroyed the entire roof. In 1986 it was taken over by Edinbarnet Estates for a nursing home which opened in 1988. The interior was renovated and adapted for this purpose.
The house's listed building status was recognised in 1993, when Clydebank District Council, also taking into account lodged objections, refused the Home's application to build an extension. Permission for a different extension was later granted. Designed by the architect Robert Sills of Helensburgh, the new wing, opened in 1995, has 27 single rooms for residents.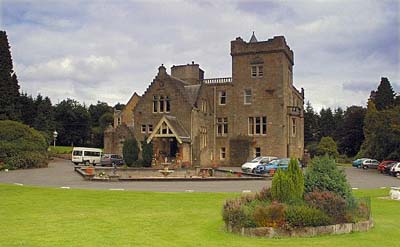 The present Edinbarnet House in 2004
The extended house now (2004) has accommodation for 60 residents. There are 27 single bedrooms, 12 companion rooms, 3 lounges, 2 dining rooms and even a hairdressing salon. In front of the house there is an ornamental pool complete with fountain, and the extensive and very attractive gardens with patio areas have been re-designed so that they are suitable for use by elderly people.