The Combination Poorhouse was opened on 7th December 1865 by the combined parochial boards of Bonhill, Buchanan, Cardross, Drymen, Dumbarton, Kilmaronock, New Kilpatrick, Old Kilpatrick, Kipppen, Luss, Port of Monteith, Roseneath and Row. The poorhouse was designed by James Campbell Walker of Edinburgh and  cost £7,908 to build.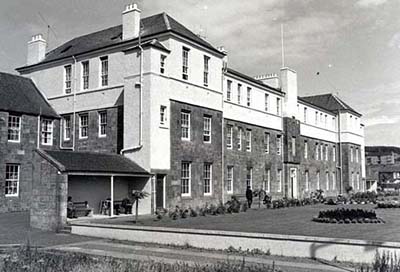 Strathclyde Hospital, formerly Dumbarton Combination Poorhouse, photographed in 1969
The poorhouse was built on the northern outskirts of the town on Townend Road, when completed in 1865 it could accommodate 134 sleeping inmates. To increase accommodation within the poorhouse additions were built on to the poorhouse in the 1860's and 1890's. To the rear of the poorhouse was a farm which was worked by the inmates of the poorhouse. The name of the poorhouse was changed in 1932, to the Townhead Hospital, thereafter it became Central Hospital. The poorhouse closed in 1983 and the buildings were demolished. The site held the Langcraigs old peoples home until 2019 when it too was demolished.