Vale of Leven Hospital Main Building in 2004
Henry Brock, one of the directors of the United Turkey Red Company at Alexandria, bequeathed £15,000 for the establishment of a cottage hospital in the Vale of Leven. The Henry Brock Vale of Leven Cottage Hospital (sometimes referred to as The Henry Brock Memorial Hospital) was opened in 1924 in Broomley House, the former home of its benefactor.
With the establishment of the National Health Service and consequent growth in health care provision, a new, larger hospital was required. This was opened in August, 1955 on endowment land of the Cottage Hospital, and was called The Vale of Leven District General Hospital. The entrance and reception areas were altered many years later, but this was essentially the building pictured above in 2004.
In 1956 the Henry Brock Hospital became the geriatric long-stay unit and assessment centre for the chronic sick until a new geriatric unit was built to the south of the main building in 1977. The old house was demolished in 1978 to make way for a car park - that which is at the top of the rise to the immediate south-east of the main building.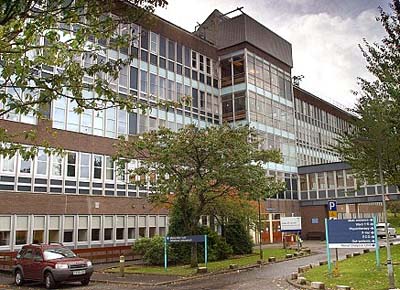 Vale of Leven Hospital Maternity Unit, 2004
In 1966 work began in the construction of a new Maternity Unit, a much more elevated block than the general hospital building, and situated between the latter and the Geriatric Unit. This was finally opened in 1971, taking over the work of Braeholm Maternity Hospital, Helensburgh, and Overtoun Maternity Hospital (Overtoun House), Dumbarton.
Over the years, extensions were built to the general hospital building, including a larger radiography unit. There were alterations too in NHS administration. From 1955 to 1974, the hospital came under the aegis of The Western Regional Hospital Board. In 1974, when the NHS was reorganised throughout the country, the Vale hospital came under the control of the Dumbarton District of the Argyll and Clyde Health Board. Subsequent changes to the way NHS hospitals were funded resulted in the Argyll and Clyde Acute Hospitals NHS Trust.
The various administrative changes have, among other things, reflected funding difficulties. The NHS in Scotland is now the responsibility of the Executive of The Scottish Parliament, and at the time of writing (2004), some services have already been transferred to The Royal Alexandra Hospital in Paisley as part of a controversial hospital centralisation policy that is currently under review. There is a question mark, therefore, hanging over the future of the hospital services and over these buildings that have served much of the Dumbarton, Vale of Leven and Helensburgh areas (and beyond) for many years.