Old Kilpatrick was one of the original medieval parishes of Scotland. The site of the Parish Church is as old as the parish itself. The building you see pictured here was used until 1812 when, because of its advanced state of disrepair, it was demolished to make way for the church that still stands to this day.
The pre-1812 edifice may not have been the very first on the site - the evidence is uncertain. Its architecture appears to be Norman, and some have said that the building may have dated back to the early 12th century. Some pre-Reformation features apparently survived that religious upheaval, including a stone font that stood just inside the front door. At one time there was an altar dedicated to St. Ninian, and doubtless there would have been features relating to St. Patrick after whom the church and parish were named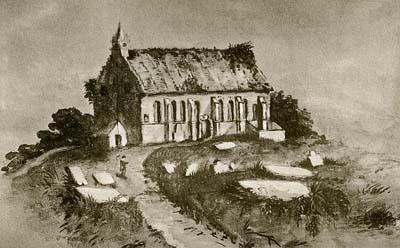 Old Kilpatrick Parish Church about 1811 from a sketch by Miss Hamilton of Cochno
Just what the connection with St. Patrick was, nobody knows for certain. It was not unknown in medieval times for churches to be dedicated to saints who had no actual life-time relationship with the community. Some people, however, are satisfied that there is evidence to support the view that Patrick was born in, or lived in the area.
In 1770, a gallery (sometimes referred to in smaller church buildings as a "loft") was incorporated in the building, and ironically this newest area was, towards the end of the building's life, one of the least desirable places to sit, on account (presumably) of the parlous state of the roof. The above sketch certainly depicts the roof in a sorry state.
A deciding factor sealing the fate of the ancient building, however, must have been its lack of accommodation for members of the established (presbyterian) Church of Scotland in an area where the population was expanding with the development of local industries.