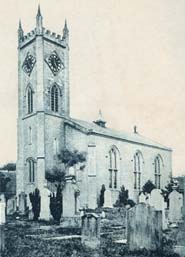 This photograph appears in John Bruce's History of the Parish of West or Old Kilpatrick published in 1893. This building, still standing today, may be the third to have been built on this site.
The previous church on the same site was a building of some antiquity, and by the early years of the 19th century was in such a state of disrepair that the minister refused to conduct services there.
The 1812 building (with additions in 1897) was designed in a semi-classical and neo-Gothic style popular in Scotland at that time.
Similar churches were built around the same period at Bonhill, Rhu and Cardross. The Old Kilpatrick Church, used by the established (presbyterian) Church of Scotland, strikes a nice balance between plain-ness and ornamentation. The clock tower, which is very imposing, has prominent pointed finials.
The graveyard surrounding the church is very ancient, with surviving tombstones dating from the 17th century.