The Gilmour Institute

William Ewing Gilmour
The Gilmour Institute for Men was officially opened and presented to the community on Saturday 2nd April 1884. It had taken 2 years to complete the building at a cost of £12,000 and was generously gifted to the people of the Vale of Leven by Mr William Ewing Gilmour, a partner of the Messrs John Orr Ewing & Co, Turkey Red dyers, in memory of his late uncle John Orr Ewing.
Designed by Glasgow architect Robert Thomson, the building is of Grecian and Egyptian styles. The original design consisted of one storey with both side wings of two-storey height, with the west wing being the reading room measuring 32ft by 22ft. The central portion, a conversational hall measuring 29ft by 13ft, provided a lounge and seating area, and on the left hand of the main entrance were a coffee room, a smoking room and a lavatory. The upper storey of the left wing provided living apartments for the superintendent and his family. The intended use of the Institute was to provide a place for mental recreation and moral improvement, and as a counter-attraction to the gin palaces of the Vale of Leven!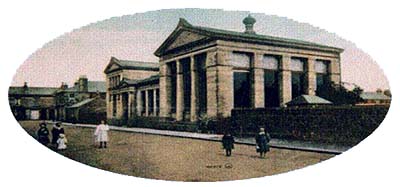 Gilmour Institute
On Saturday 26th March 1927, Bonhill Parish Council formally opened their new offices attached to the rear of the original Institute. Entered through the main door to the Institute the building consisted of, on the ground floor, general offices with a counter running the full length divided into compartments for business connected with unemployment, poor law assessments, registration, churchyards and cemeteries. There were also two large strong rooms. The upper floor, not yet complete, was to accommodate the lending library and board-room. In the institute, racks were installed in the hallway for newspapers and the large room (formerly the Mechanics Library) was to be used as the Parish Public Library. Two years later the lending library and board-room were opened.
The building continued to be used for the administration of the Vale of Leven District Council until its disbandment in 1975. Thereafter, it was used by sections of Dumbarton District Council and the Registration Department of Strathclyde Regional Council.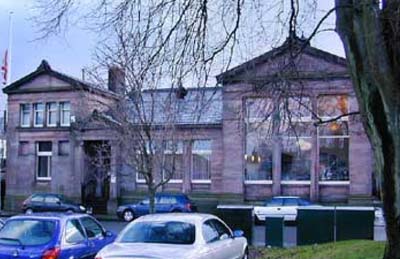 Alexandria Library
In 1988 the registrars moved to their new offices in Bank Street and the council offices moved to new premises in Mitchell Way, leaving the Gilmour Institute for the sole use of the public library. The building was altered to accommodate a new library and separate children's library. A Heritage Centre was sited on the upper floor for a brief period in the nineties, the upstairs later being taken over by West Dunbartonshire Council's Community Education Department, and the large reading room on the ground floor has been converted into an Open Learning Centre for computing, which brings us up to the current day.