Tram cars began running to Clydebank in 1903, when the Burgh Commissioners asked Glasgow Corporation to extend its lines from Yoker. The first route terminated at Bon Accord Street close to the entrance to John Brown's Shipyard. In 1904 the tramway was extended to Dalmuir and in 1915 to Dalmuir West. The Forth and Clyde Canal bridge prevented it from going further but in 1908 the Dumbartonshire Tramways Service linked Dalmuir to Balloch and passengers changed trams. The fare to Balloch was between a penny to three pence, depending on where the passenger boarded the tram.
The route from Glasgow Road to Radnor Park was blocked to trams by the railway bridge and the canal bascule bridge on Kilbowie Road. Despite the replacement of the bascule bridge with a metal swing bridge in 1916, it was 1924 before Glasgow Corporation found a solution, introducing a single-deck tramcar on the route. The tramline was extended to Duntocher but this closed in 1949 and was replaced with an SMT bus service. Another single-deck tram ran from Clydebank to Partick and was nicknamed the "wee baldie".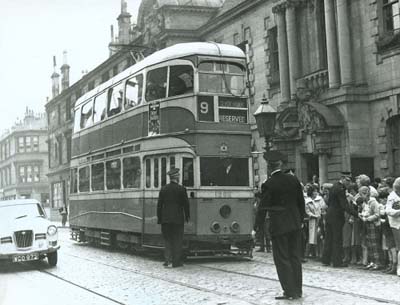 A Glasgow Corporation Coronation Mark 1 tram outside Clydebank Town Hall, for the Burgh's "last caur" ceremony on 6 September 1962.
Tramcars carried thousands of passengers through the years, but with the upsurge in car ownership their days were numbered. The last tram ran in the burgh streets in 1962, after which the rails were stripped out and the cobbles lifted.