Pictured above - A Dumbuck Tram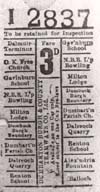 Tram Ticket
The Dumbarton tram began to operate in February 1907, six electric trams bought at a cost of £700 each covered two routes, one through the town and out by Glasgow Road to Dumbuck and the other by Bonhill Road to Barloan Toll.
In 1908, the opening of the Dalmuir to Bonhill tram line made it possible to travel on a Glasgow tram car to Dalmuir and board a Dumbarton tram car out to Balloch.
The tram cars in Dumbarton were a favourite mode of transport for many local people, however due to the introduction of a regular bus service in the 1920's, the tram cars ceased to operate in 1928.