Museums Galleries Scotland Recognition
West Dunbartonshire Council's Singer Sewing Machine Collection and Singer Archive is Recognised as a Nationally Significant Collection awarded by Museums Galleries Scotland for its outstanding collection of machines and artefacts relating to the Singer Sewing Machine Factory.
The collection offers a fascinating insight into the manufacture and development of sewing machines and is the largest collection of its kind in Europe. Included in the collection are several 'first' sewing machines from as early as 1850. The museum also has a rare first model of Singer's Number 1 and the first domestic model, the Turtleback.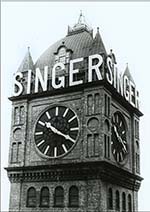 Singer Clock
The museum also holds the only known examples of the first sewing machines to have been manufactured in the UK along with the last sewing machine to be made at the Clydebank factory before it closed its doors in 1980.
Along with rare machines, the collection also documents the workings of the Singer factory, providing a unique picture of the area's industrial links and the social history of the 16,000 people who worked there.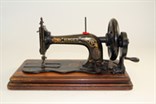 Old Singer Sewing Machine
Cllr Michelle McGinty, Convener of Educational Services, West Dunbartonshire Council, said "The Singer factory in Clydebank is a big part of our history and touched the lives of nearly every family in Clydebank with the factory employing more than 16,000 locals.  We are delighted to receive this national recognition for our collection and it is a credit to everyone over the years who have kindly donated their machines to the museum for others to enjoy."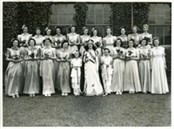 Gala Queen 1940
Cllr John Mooney, Depute Convener of Educational Services, said:  "This is an exceptional collection which has been built up with the help of the community for over 100 years.  Many residents will remember working at the factory or remember their parents telling them stories of life at Singers and how the factory brought work to the town. This is a very proud moment for everyone connected with the factory and it is important that we maintain the collection, not only for people to enjoy today, but for future generations."
Ray Macfarlane, Chair of Museums Galleries Scotland's Recognition Committee, said: "The quality and importance of this collection is unequivocal and it is not only of national but of international significance. This is reflected in the collection being the largest in Europe of its kind and second only to the Smithsonian Institution globally."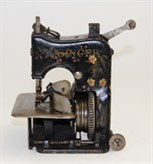 Old Singer Sewing Machine
Fiona Hyslop, Cabinet Secretary for Culture and External Affairs, said: "The Scottish Government's Recognition Scheme identifies and supports the most important, best-quality, collections of historic artefacts and artworks held in our museums and galleries. "Clydebank's fascinating Sewing Machine Collection and Singer Archive brings the number of Recognised Collections in Scotland to 39, held right across the country from Kirkwall to Annan, Dundee to Inveraray and of course now in Clydebank. "I urge everyone with an interest in Scotland's rich culture and heritage to search out, explore and learn about the many historical treasures held in our brilliant Recognised Collections."
Some of the rarest and most prized from the collection will be displayed permanently Clydebank Town Hall Museum and Gallery, Dumbarton Road, Clydebank.
---
Sewing machine collection and Singer archive at Clydebank Museum Video
Sewing machine collection and Singer archive at Clydebank Museum Video
Images of Singers Factory
Click on the large image to start the full screen slide show.
---
For General Enquiries
You can call us on 01389 737555
If you wish to make a Singer/Sewing Machine related donation please contact Andrew Graham.
Email: singer@west-dunbarton.gov.uk
Tel: 01389 772149.
Use our online enquiry form: Submit our online enquiry form. 
Or write to us at:
Clydebank Museum
Clydebank Town Hall
Dumbarton Road
Clydebank
West Dunbartonshire
G81 1UE