West Dunbartonshire Council Archives
We want to collect your stories – they're part of our shared history.
Your Coronavirus (COVID-19) experiences
Did you know that West Dunbartonshire has an archive of old documents, letters and photographs that stretches back to medieval times? The archive reflects our shared history, and everyone's story is important. Our Arts & Heritage team are keen to ensure that a record of West Dunbartonshire's experience of the current coronavirus (COVID-19) crisis is kept so that future generations can understand what we're living through. To do this, we need your help.
We'd like to encourage you, the people of West Dunbartonshire, to help us capture the local experience of COVID-19.
How can you help?
We are interested in collecting anything that shows how COVID-19 is impacting everyday life in West Dunbartonshire. This could include:
diaries
photographs that show how life has changed - empty shelves, queues, notices of closed businesses
posters and fliers from groups who play an important role in keeping vulnerable people safe
artwork that has been created, from rainbows painted by children to cheer people up, to sketches of what you can see from your window.
For more information on how you can contribute to the archive e-mail:
archives@west-dunbarton.gov.uk
West Dunbartonshire Council's archive looks after the area's earliest documents. These include Medieval charters, which describe the powers and rights that were granted to the people of the local area, to minutes of Dumbarton Town Council from the 16th century, which document the decisions that were made about how the town should be run.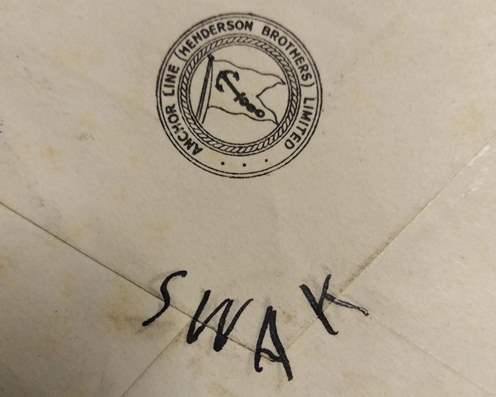 Letter sent from a sailor aboard an Anchor Line ship destined for America, to his wife and daughter in Dalmuir. The letter is 'Sealed With A Kiss' (ref: GDC17)
But the Archive also captures the stories of local people, from love letters sent between family members during times of separation, to photographs of family reunions. Evidence of how other national emergencies have affected West Dunbartonshire – such as how the Blitz devastated Clydebank - can be found in the Archive. And so too can records of celebration and hope, such as records of VE Day and the Queen's Coronation.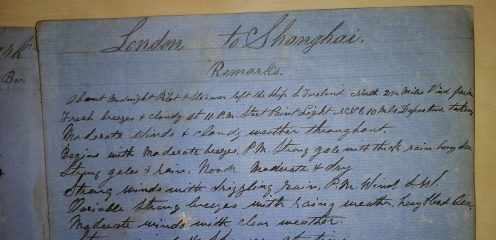 Log book kept by Captain George Moodie during his first voyage aboard the Cutty Sark, between London and Shanghai (ref: 7/5/2)
The documents, photographs and artwork we collect during the Covid-19 crisis will be invaluable records for future historians. We are aware that some records will contain personal or sensitive information. In these cases records will not be available to researchers until a long period of time has passed.
How can I donate?
More information about how to donate records will be available in due course. In the meantime, we ask that you keep anything you'd like to donate to the archive safe. 
If you have any questions, please contact the Archives department at:
archives@west-dunbarton.gov.uk
Collections and Archive Catalogue
The archives collect and preserve the written heritage of West Dunbartonshire. Our collections date from the 14th century to the present day and are open to anyone interested in the history of the area.
Click on the image to visit our collections and archive catalogue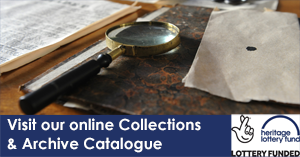 Our collections include:
Official council records, including minute books which date back to the 16th century
School records
Records from local industries, businesses, societies, notable families and individuals
We also hold the Singer Archive which has been officially recognised as a collection of national significance by the Scottish Government.
Access
Material from the archives can be viewed at Clydebank and Dumbarton Heritage Centres. Local History Librarians are often available for people to drop-in, however it is always advisable to book an appointment.
Donations
We are always happy to consider deposits of archive material relating to West Dunbartonshire. If you are considering donating material then please contact the archive using the details below.
Enquiries
Enquiries are welcomed and the archives can be contacted directly via our Local History Librarian..