The Old Castle
The old Balloch Castle dates from 1238 and was the historic home of the Earls of Lennox who lived there during the medieval period. The Lennox family had been given the land and titles in 1072 by Malcolm III, son of Duncan who was murdered by MacBeth. The Earls of Lennox did not consider Balloch Castle to be safe enough from attack, so around 1390 they abandoned it and moved to the security of a new castle on the island of Inchmurrin.
The old castle continued in the hands of the Darnley branch of the House of Lennox until 1652 when James, fourth Duke of Lennox, sold Balloch Castle to Sir John Colquhoun of Luss.
At the beginning of the nineteenth century John Buchanan of Ardoch acquired the Castle and Estate. He used stone from the walls of the ruined castle to build a castellated mansion nearby. This mansion is now commonly known as Balloch Castle. All that remains of the old castle is a mound, close to the shores of the loch, where the castle stood and a depression that was the castle moat. The site of Historic Balloch Castle is a scheduled monument with statutory protection.
The New Castle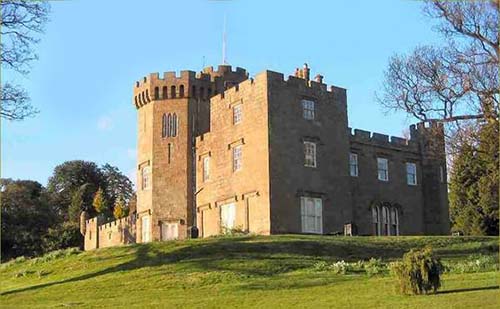 The New Balloch Castle
The present building was built in 1808 for John Buchanan of Ardoch. It was designed by Robert Lugar, who also designed Tullichewan Castle. John Buchanan was one of the original partners in the Glasgow Ship Bank and he signed all the bank notes at the castle. In 1830 the Estate and Castle were bought by Gibson Stott who made considerable improvements to the grounds. The Castle and Estate changed ownership again in 1845 when A.J. Dennistoun-Brown bought them: the Dennistoun-Brown family was the family most closely associated with the Castle.
In 1914 Glasgow Corporation bought Balloch Castle and the Estate for £30,000. It was hoped that this attraction would encourage people to use the tramcars that ran from Glasgow to Balloch. Dumbarton District Council leased the Estate in 1975 and it was officially designated a Country Park in 1981. The Castle was used as a base for Dumbarton District Council Countryside Ranger Service, as well as being the headquarters of the local division of the Nature Conservancy Council.
In July 2002 Loch Lomond and the Trossachs National Park was formed and Balloch Park is now part of the National Park.