Having acquired the extensive estate of Levenside (later called Strathleven) in 1670, William Cochrane, the first Earl of Dundonald, had a mansion house built there between 1700 and 1708. There is good reason to believe, from the evidence of woodworking styles and Palladian concepts, that the architect was the renowned James Smith who also designed Hamilton Palace, Lanarkshire.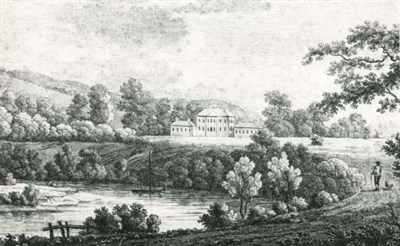 Levenside (later Strathleven) House - from a late 18th century print
The house and estate were acquired by Archibald Campbell, advocate (created Lord Stonefield in 1762) whose family were probably responsible for a great deal of the landscaping and tree-planting that are evident in the above print, and in the one beneath.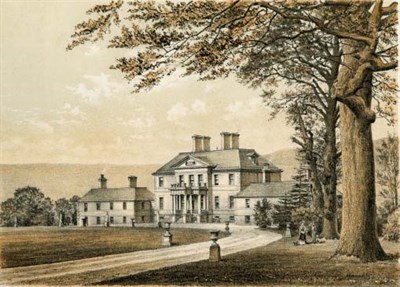 Strathleven House from a print in Joseph Irving's "The Book of Dumbartonshire" (1879)
Archibald's grandson sold Levenside in 1836 to James Ewing (died 1853), one-time M.P. for Glasgow, and a prosperous merchant. He changed the name to Strathleven, perhaps thinking that sounded a little grander. The Crum-Ewing family, descended from James' nephew, inherited the estate. The above print, published in 1879, shows the house in its Victorian heyday.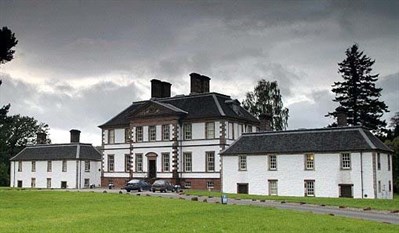 Strathleven House - 2004
While the Crum-Ewing family and estate trustees continued to be feudal superiors over large portions of the wider estate stretching from Barloan, Dumbarton, over towards Kilmaronock, part of the lands between the house and the River Leven were taken over in 1946 for a Government-sponsored industrial estate. Various companies have been or are associated with this estate, including Burroughs Adding Machines, Westclox and Polaroid. At the end of the 1970s, Hiram Walker, distillers, built warehouses and offices at Kilmalid in the grounds to the south of the house.
Meanwhile the A-Listed house itself underwent hard times, was empty for many years and fell into a dangerous state of disrepair. A fire reduced the building almost to an empty shell. A number of schemes for its preservation and recovery were mooted. Finally, in the mid 1990s, the house was acquired by the Scottish Historic Buildings Trust. By 2001 it was completely refurbished and had been leased to The Lennox Partnership for use as offices for business enterprise.
This arrangement only lasted a few years, and early in 2004, Scottish Enterprise Dunbartonshire and West Dunbartonshire Council assigned the lease to Strathleven Regeneration Company which, in turn appointed East Dunbartonshire Enterprise Trust to manage the property until 2006.