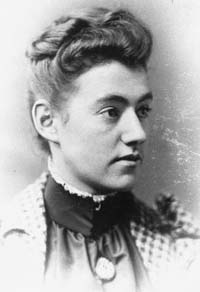 Pictured left is Jane Rae, political activist and one of the Singer strikers in 1911.
Jane worked in several departments in Singer and, with all her colleagues in the buffetting department, she was among 400 workers sacked for their involvement in the strike in March-April 1911.
A woman of great determination and political conviction, Jane joined the Independent Labour Party (ILP) in 1913 and became Secretary of the Clydebank Branch. From 1922 until 1928 she served on Clydebank Town Council. She became involved in the anti-war, the co-operative and the temperance movements; she was a supporter of the suffragette movement and chaired a meeting for the suffragette Emily Pankhurst at the Town Hall, and she was involved in the Clydebank Rent Strike during the 1920s. She moved to the Channel Islands in 1938 but returned to Clydebank in 1947 and remained until her death in 1959.