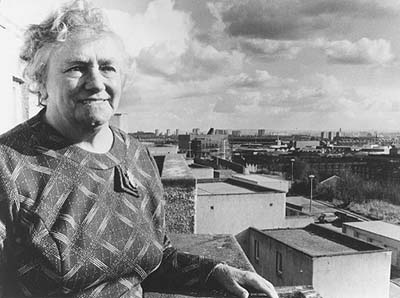 Jenny Hyslop on the balcony of her house in the Terraces above Second Avenue, Clydebank
Janet Kerr Reid was born in Gorbals, Glasgow, and moved to Clydebank after her marriage in 1921. She became involved in the Clydebank Rent Strike, helping organise the campaign against increases in pre-war rents and resisting the evictions of rent strikers, and joined the Communist Party. She served as the councillor for the burgh's 5th Ward, 1938-1946.
Jenny was involved in the management of the Clydebank Co-operative Society and a member of the Women's Co-operative Guild. She became a senior air raid warden during the Second World War - the first female ARP Sectional Head in the West of Scotland - and organised rescue operations during the Clydebank Blitz in 1941, when her own house was destroyed.
In 1955, Jenny became secretary of the local branch of the Voluntary Association for Handicapped Persons. She went on to work for the Disablement Advisory Committee. In 1971 the Association began raising funds for a home for the handicapped, and she opened the new home in Drumry Road in 1978. That year, she was voted the Evening Times' Scotswoman of the Year.