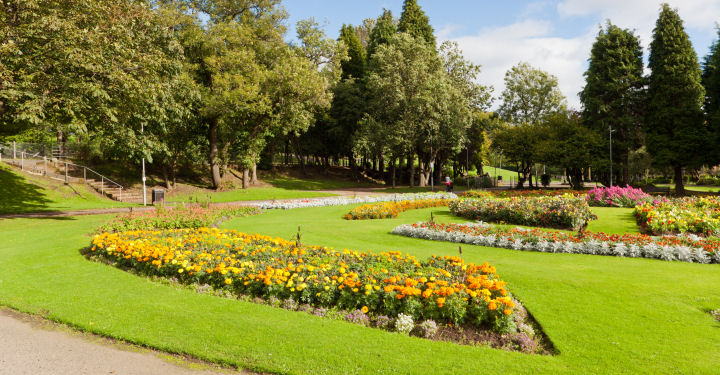 Dalmuir Park extends over an area of approximately 7 hectares and was originally a designed landscape. It is situated between Mountblow Road, the railway line and Overtoun Road in the Clydebank area of Glasgow and is bounded by existing residential areas to the East, South and North West.
The main access to the park is gained through gated entrances at Overtoun Road and Mountblow Road. There is an underpass on the southern boundary beneath the railway line which opens out to Dunn Street leading to Dumbarton Road.
The Dalmuir site was purchased as a park in 1906 and the Opening Ceremony was held in September of that year, therefore the park has reached its Centenary. The bandstand and fountain were constructed in 1907 and the park became the focal point for local entertainment, political rallies etc.
Dalmuir Park was restored in 2012/13 as a major project jointly funded by the Heritage Lottery Fund and West Dunbartonshire Council.  You can find out more about the changes and improvements made to the park on the Dalmuir Park Restoration Project page.