An information panel has been installed at the entrance into Dalmuir Park at the tunnel under the railway.
Before the tunnel was built the initial access to the park was by means of an unmanned level crossing, west of the tunnel.
The tunnel was created in 1907, following the death of Robert Currie aged 18, who died in a heroic, unsuccessful attempt to save Charlie Friar aged 2 from an oncoming train.
During the Blitz the tunnel was used as a bomb shelter when families couldn't make-it to the proper shelters.
Attempts were made in 2012 to improve the look of the underpass tunnel and as a result the brick work was painted.  However this has proved to be a difficult job due to water penetration.
Mosaics on the tunnel walls were created by the Clydebank youth group 'Y Sort It'. These depict the history of Clydebank and the young people who made them worked very hard to create these wonderful, colourful works of art.
The railway tunnel before painting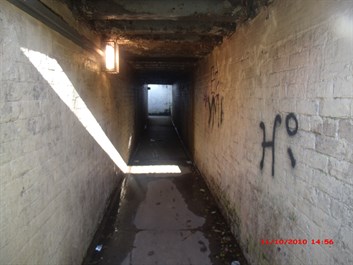 The railway tunnel after painting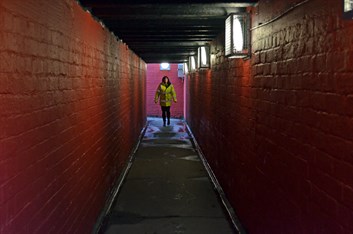 Tunnel Mosaics