The arrival of ship building and other industries in the 19th Century on the Clyde side changed this rural landscape. The grass parkland was designed to be open with no trees.
Dalmuir Park became an important local meeting place for concerts, events and rallies. Many of these were centred on the Bandstand which was built in 1907. Regular political and union events and rallies took place in the park as well as several orange walks. The park was mainly used however for entertainment with local brass and pipe bands playing. The Salvation Army, the Duntocher Silver Band and Clydebank Burgh Band were regular performers as well as many others.
In summer months entertainment nights were held in the park and. Friday night activities were known as 'Go as You Please'. On Saturday nights, ballroom dancing was held. Regular Punch and Judy shows were also took place at the weekends.
The original bandstand was donated by J Dundas White, a local Member of Parliament. The bandstand was moved to Whitecrook Park in c1937 and now stands in Clydebank Shopping Centre. A new bandstand was built in the park in 1936 but was later demolished.
The old bandstand area is now known as the new entertainment area where regular events and shows will be held in the summer months.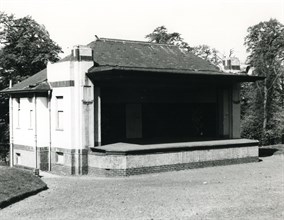 How the bandstand looked in 1980