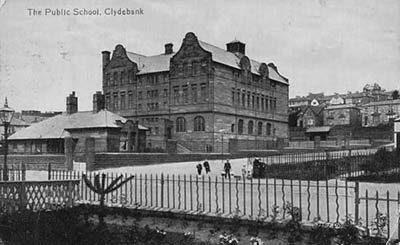 Postcard view of Boquhanran Public School, c 1905
The school was built on Skypes Road (now Radnor Street) to the east of Boquhanran Farm. The first sod was cut on 29 September 1905 and the work was completed exactly one year later. Built at a cost of £20,000, it had a rather grand appearance - similar in style to the nearby Radnor Park School. On the opening day in the company of assembled guests, James Filshie, the Chairman of Old Kilpatrick School Board, opened the doors with a gold key especially made for the occasion.
The school was a casualty of the Clydebank Blitz in March 1941. It was never rebuilt, and the site is now part of Clydebank High School.