Access to Leisure
Access to Leisure is West Dunbartonshire Leisure Trust's concessionary scheme.  By joining the scheme, you will be entitled to discounted prices in a range of activities on offer when you visit the Meadow Centre (Dumbarton), Clydebank Leisure Centre (Clydebank) or the Vale of Leven Swimming Pool (Alexandria).

To be eligible for an Access to Leisure card you have to be in receipt of certain benefits and submit one of a number of verification items such as Job Seekers Allowance Card, DWP letter of entitlement to benefits or be 60 years old or over.  Membership attracts around a 40% a discount off a number of activities from the standard charge.   Activities include swimming, gym sessions and health suite. Concessionary cardholders attract the maximum discount at off peak times

Once your membership application has been processed you will be issued with your own membership card. The card must be presented by you every time you visit a leisure centre. Failure to present your membership card will prevent you from receiving your membership benefits.
West Dunbartonshire Leisure offers discounted swimming on weekdays and school holidays for Adult and Juvenile concessionary members at its three leisure centres, the Meadow Centre, Clydebank Leisure Centre and the Vale of Leven Swimming Pool.   However, the offer excludes classes, swimming lessons, special events (such as Aqua Discos), group or club bookings and parties.
Senior Citizen Access to Leisure members can obtain discounted swimming during all public swimming sessions at the Meadow Centre, Clydebank Leisure Centre and the Vale of Leven Swimming Pool.
How to Join
Simply complete an Access to Leisure application form, take it to one of the leisure centres and pay the appropriate fee.  Memberships are valid for one year from the date the application is processed.
° This excludes Resident Senior Citizen memberships, which are lifetime memberships.
Customers purchasing concessionary memberships must show proof of status when applying.
Charges
Access to Leisure - Adult     - £10.00
Access to Leisure - Couple  - £20.00
Access to Leisure - 60+ -       £3.00, one-off payment
Leisure Card
The Leisure Card is West Dunbartonshire Leisure Trust's discount card for school children residents with West Dunbartonshire or attending a West Dunbartonshire school. 
Card holders are entitled to swim for £1.00 during the main school holidays throughout the year, spring break, summer and October week. There is no change for the first card, if you lose the card a charge may apply for a replacement.
Application Form
Download the Concessionary Access to Leisure leaflet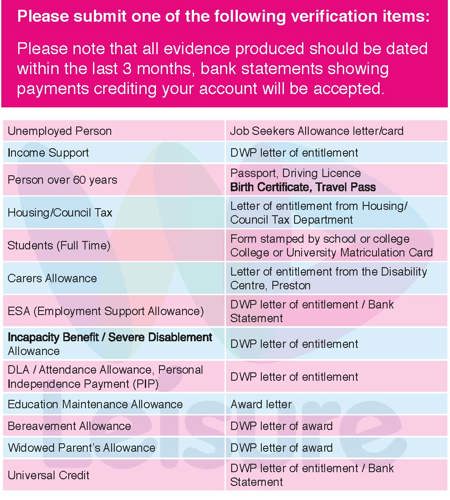 It is the policy of West Dunbartonshire Leisure (WDL) to take all reasonably practicable steps to ensure the health, safety and welfare at work of all its employees.  WDL also acknowledges its responsibilities in respect of persons other than its own employees. WDL will manage risks sensibly and proportionately and will create an environment in which managers and employees work together collaboratively.