When planning a wedding there is a lot to think about, from dresses to the venue itself and even smaller items such as your  wedding favours – everything comes at a price! This can often leave you feeling worried about how you're going to afford it all. However, there are ways to create you're dream wedding on a budget, with our useful DIY hacks why not start planning the perfect day with Clydebank Town Hall.
Personalised Coat Hangers
Having this nice keepsake will be sure to remind your wedding party what a special day it really was, plus  they also look very elegant for the perfect insta-shot on the morning of your wedding.  They're really easy to make – all you need is some coat hangers, spare material of your choice and printing out free name tags for each of your bridesmaids. A lovely way to kick start you're wedding morning!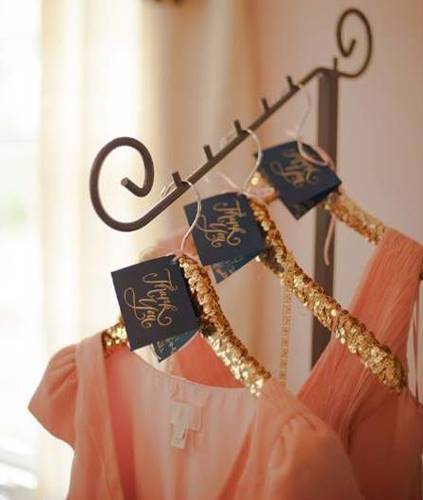 The perfect photo opportunity.
Are you looking for a way to make you're wedding photos stand out and be memorable? Get creative and make your own wedding backdrop – the perfect photo opportunity for your guests. There are many ways to do this, but the simplest is creating your own  photo booth with props, which can be easily made and printed out on card, and then gluing to the back of sticks (such as kebab sticks or straws, just speak to your Wedding Co-ordinator at Clydebank Town Hall who'll be happy to accommodate this for you. There are other ways to create stylish photo opportunities for you're wedding rather than just a plain back ground. The popularity of flower walls has spiked in recent years because of the classiness that they add to a photo, although they can be time consuming to make and expensive to hire. Another way to create something similar is by using a hula hoop – strange we know, but by decorating and styling one to your wedding colours and style can make for a perfect photo prop.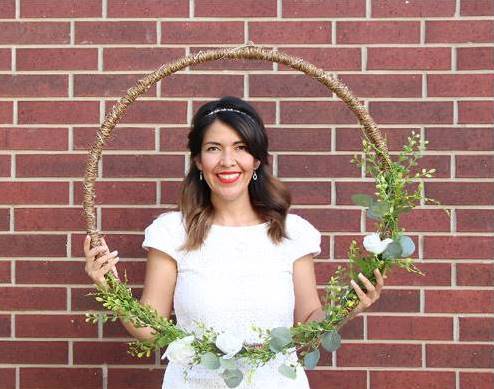 Capturing those special moments
Following on from making your own photo opportunity, you need to be able to catch these moments! The likelihood is that you will have a professional photographer at your wedding, although the chances of them catching every special individual moment between you, your family and friends is slim. So why not let them capture it? Providing disposable cameras allows you to see all the crazy madness that happened when you weren't watching! It also allows for raw, candid shots and memories that will last a life time.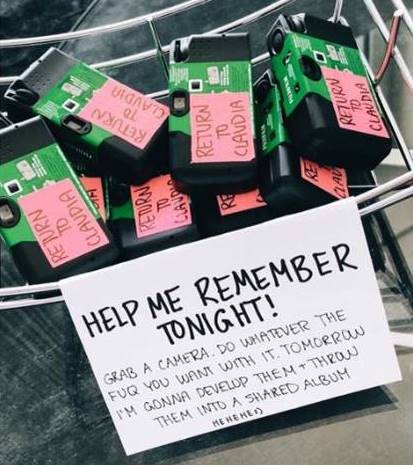 Name Cards
Planning you're seating plan for the wedding is probably up there with one of the most important but stressful parts of the wedding planning schedule. Having a fun and interesting name placement makes for a fun way for guests to find their seats Name placements that are unique can also make for a memorable keepsake for your guests. Cork screws with a small cut in them with a piece of card inserted at the top creates a simple, stylish and low-cost way to allow your guests to find their seat. You could also decorate the cork screw tie them into you're colour theme.  Another idea is having wooden place names for each individual, which can be made for as little as 50 pence per name on sites such as www.etsy.com.
Toilet Box -   The little things.
We all know that at weddings, the toilets tend to be the place for compliments, but often by the time the ceremony and dinner is out the way you may need a little touch up. For brides at Clydebank Town Hall, they need not worry as our bridal suite is the perfect place to do so. However, a nice touch for guests is a 'necessities' box in the toilets. An all day wedding can be very long and tiring for some guests, and having a small box of necessities always comes in handy.  For females items could include deodorant, hairspray, Kirby's/bobbles, chew gum etc. Males could have similar with a little mix-up of relevant items such as hair gel and breathe freshener. A nice way to show that you care about you're guests.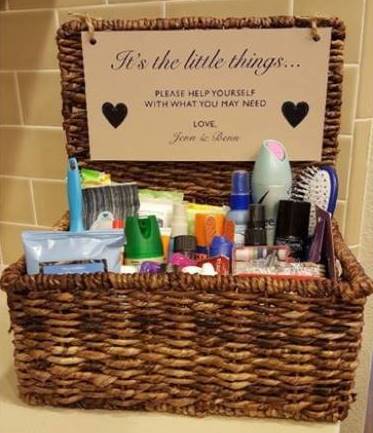 Taking time to create these DIY pieces for you're wedding will take the pressure off spending hundreds of pounds on the small things that you need. A top tip is to rope your friends in by ordering a take-away and inviting everyone round to help. Even getting you're friends and family to help with collecting things such as the corkscrews, baskets or old glass bottles will all contribute to the final day and make everything feel so much more special.
Wedding packages start from just £1,600 with Clydebank Town Hall. Arrange your appointment today with our experienced Wedding Co-ordinator – call 01389 737555.