7. Gordon Scanlan
Partner Director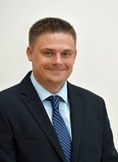 Having volunteered and worked for Active Schools West Dunbartonshire for over 10 years it is an immense privilege to be appointed to the West Dunbartonshire Leisure Trust board.

I have incredible passion for the West Dunbartonshire Leisure Trust and all of the services it has delivered and continues to deliver for all of our residents in West Dunbartonshire. I've witnessed first hand the lifelong benefits that the WDLT'S services can have from young children developing physical ABC'S and fine motor skills to adults using the gyms and swimming pools to stimulate their physical and mental health.
I was elected as a councillor for the Kilpatrick ward in May 2022 and one of my main priorities is to use my experience to contribute as much as I can to the WDLT and to help the organisation achieve it's aims and ambitions.