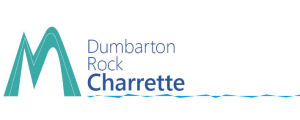 West Dunbartonshire Council with the support of the Scottish Government and Historic Scotland, held a design charrette in Dumbarton between 25 and 28 February 2015. The charrette area focused on the Rock and Castle but also considered the link to the wider town centre of Dumbarton.
A follow up Feedback Event took place at Dumbarton New Burgh Hall on 26th March. The flyer for the event can be viewed here.
At the feedback event it was possible to view the drawings that were produced and the ideas that were discussed over the four days of the charrette and consider what people said at the time. These drawings and ideas have now been incorporated into a final report which can be viewed below   
A charrette is an intensive public consultation that engages local people in the design of their community. The Scottish Government has selected the Dumbarton Rock and Castle area along with other towns, including Clydebank, to support locally driven design charrettes.
The main aims of the Charrette were to:
Develop a shared long-term vision for Dumbarton Rock and Castle and its immediate setting

Identify how Dumbarton can benefit from the development of the Rock and Castle as a major visitor attraction and from the redevelopment of sites near the Rock

Establish how Dumbarton's tourism, cultural and heritage assets can be exploited and to ensure that all new development contributes to making Dumbarton an attractive place to visit and to live in

Establish a clear masterplan and action plan for turning the results of the charrette into a longer term strategy.
A project team led by Anderson Bell Christie Architects assisted the Council with the charrette. The 
charrette programme
can be viewed below.    
The presentations for each day and from the follow up event are also available below.
Presentation Boards